Guarda Segura's policy is to supply guards and associated security services, to design projects and systems, to integrate multiple disciplines and maintain and monitor security services for our customers in Luanda and Angola.
Our realism and professionalism in security solutions, our conception, design and execution of site surveys, our on-going training and support systems are a continued source of pride.
By our high level of performance we will develop our target market to the benefit of our customers, staff and owners.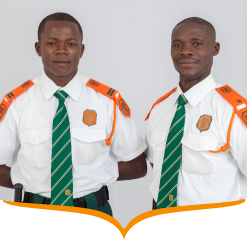 Code of Business Practice
---
Guarda Segura accepts the competitive private enterprise system as the best means of ensuring that the requirements of the customer are fully and faithfully met, in terms of price, quality, variety and service.
We further accept that the foundation of business should be integrity, fair dealing and efficient service. The payment of realistic and performance based salaries motivate personnel and the development of our staff are applied on merit alone.
We stand for fair competition and reject all acts characterized by bad faith, deception, fraud, oppression, bribery or racialism. We exercise our duties and responsibilities with the greatest care embracing the highest ethical standards.
We believe in the need for constant search for improvement in an effort to maintain and provide a better service.
We accept the representation of services and goods should be truthfully made and scrupulously fulfilled.
We undertake to avoid all untruthful or misleading statements in publicity or advertising.
Guarda Segura fully and completely upholds and respects all laws of Angola and supports the powers of the authorities.
We accept the above and agree to openly report our performance and to submit controversies arising hereunder to settlement by either voluntary agreement or within the laws of Angola.
Words of General Director
---
Guarda Segura was registered as a private security company in mid 1992. First concept for creation of the company was based on radio linked alarm systems with elite forces to complete Rapid Response Teams. However, our well equipped and well coordinated teams transmitted confidence to Luanda's presumptive clientele of security services; hence our guard force grew faster than the electronic side. Management widened the growth concept and invested in high quality manpowered security services. The success that followed this business concept did not come by chance, but by a perfected organization where the human resources always were in focus and always got the best logistical support possible.
Corporate Social Responsibilities combined with informed and service minded staff still make an evident part of our business concept and is together with security mindness in focus at our in-house training facilities.
I am proud to say that the business concept that I and my Partner/Wife implemented more than 20 years ago is still valid, and we are still able to give the best of security services at our One Stop Shop where static guarding nowadays is complemented with full scale Electronic Security, Quick Response Teams, Escort Services and Transport of Valuables.